Trip Complete
Below is the email I sent to my coworkers announcing my departure from Uber.
Friends,
When we put Ubers on the road for the first time in Atlanta back in 2012, people smiled and said it would never work. Over and over we heard, Atlanta was "too spread out" and a "driving city." So we got scrappy, rolled up our sleeves and made Uber in Atlanta a thing.
2,791 rides, 9,873 miles and over 34 days spent in a car later, it's fair to say that Uber has been the ride of my life so far.
So, after nearly 6 years at Uber, I've decided to take off on my next adventure. But before I sign off, I wanted to say thank you:
Thank you to Travis, Ryan, Austin, and Keith for taking a chance on me. Whether you realize it or not, you gave a 23-year-old kid with absolutely no relevant experience the opportunity of a lifetime.

Thank you to everyone I've had the chance to work with — it's been an honor, privilege and I'm so grateful for the time we've had. Looking back, I'm so proud of what we built together. Your guidance, mentorship, friendship and feedback have helped me grow.

Thank you to everyone for making Uber an incredibly special place where anything is possible. You've made Uber a company where people can make an impact and radically change the way people get around cities. Over the years, we've won, lost, laughed and cried together — any way you slice it, we're family for life.
If we went from 10 cities to more than 600 in just six years, I'm even more excited for what we we'll do in the next six. Uber's future is bright and I'm incredibly optimistic about our long-term vision.
What's next for me?
Being a part of Uber has been the most engaging, challenging and humbling experience I've ever had. So for my next chapter, I'm planning to use what I've learned here to invest in and advise the next wave of startups.
In the coming months, I'm planning to recharge, travel and spend more time with family and friends who have supported me along the way. Additionally, Alison and I will be moving back to the East Coast to be closer to family and I Iook forward to spending a lot of time at home in South Florida.
If you're ever in the area for a bachelor or bachelorette party, reunion, cruise, Disney, seeing your parents or grandparents that may or may not live in Boca, please give me a shout. I'm happy to show you around and prove to you that Florida is more than just these things :)
Stay awesome. Keep hustling.
Scott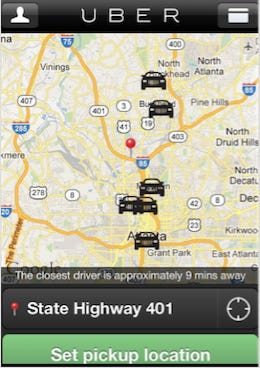 Summer '12: An early screenshot of the Uber app in Atlanta